Relic Stratocaster Style Guitar - Vintage Guitar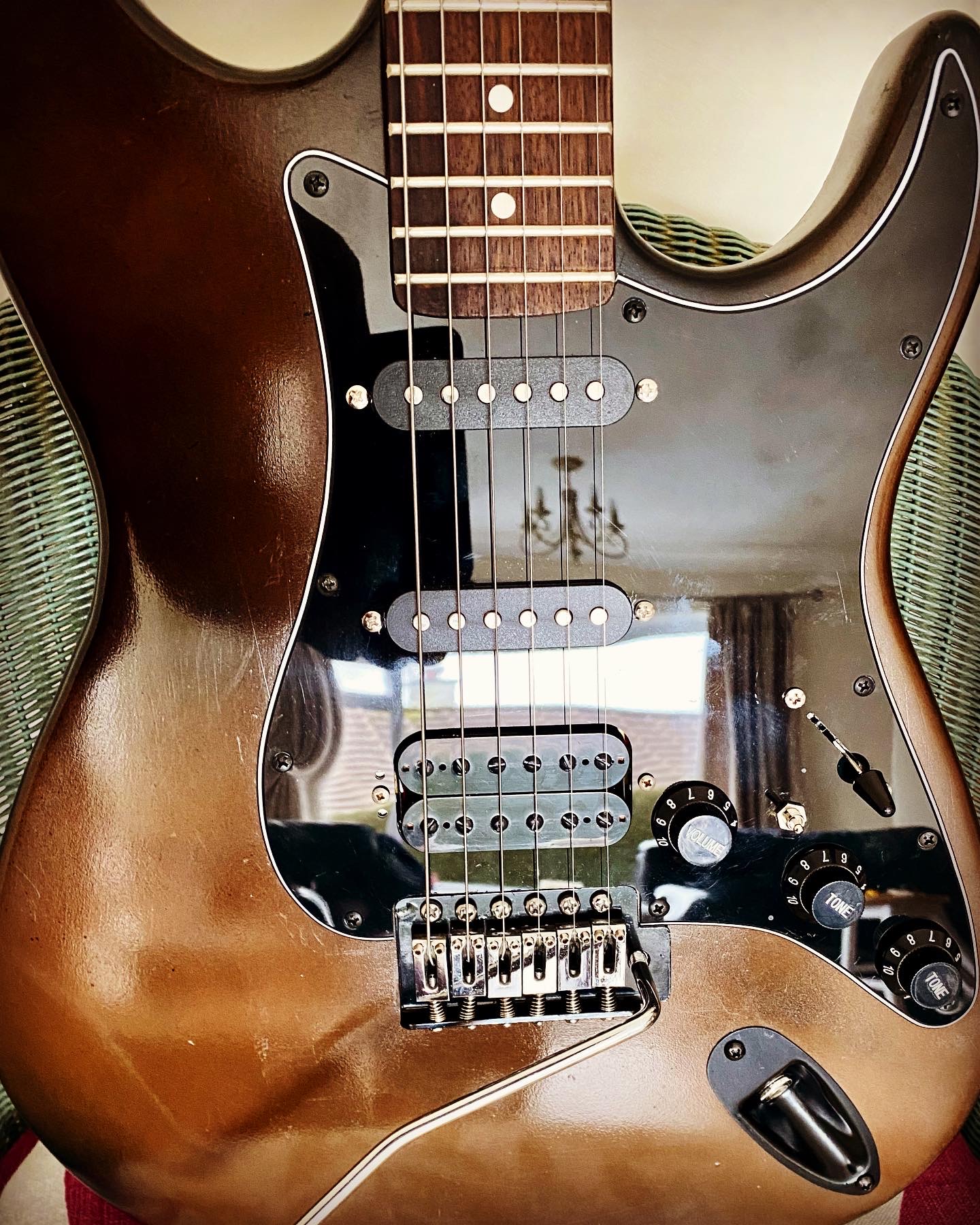 £135.00 UK Post Free – Contact for International Shipping.
Relic (actually a survivor) Stratocaster with tapped vintage type humbucker. Loud and crunchy.
The body is over 20 years old, solid wood (medium weight) and has been abused over its life time. Finished in dark brown and black, this Stratocaster type body has been fully serviced, with very little surgery needed to make it healthy and completely functional again. It still has battle scars, dents, crackled paintwork (in places) and is not shiny and new. All I did was buff the paintwork with a mop. I love it!!!!!

The neck is a replacement and the headstock has been painted to match the imperfect look of the body. New machine heads have been fitted. The pickups are replacements and they sound very British (indie rock). The bridge pickup is tapped and can be switched via a micro switch near the 5 pole standard Stratocaster switch. The new scratchplate is a Fender type (screw hole positions are very nearly correct). A new complete tremolo bridge has been fitted.
As a nod to its past, the rear screws fixing the new tremolo cover are the original rusty ones.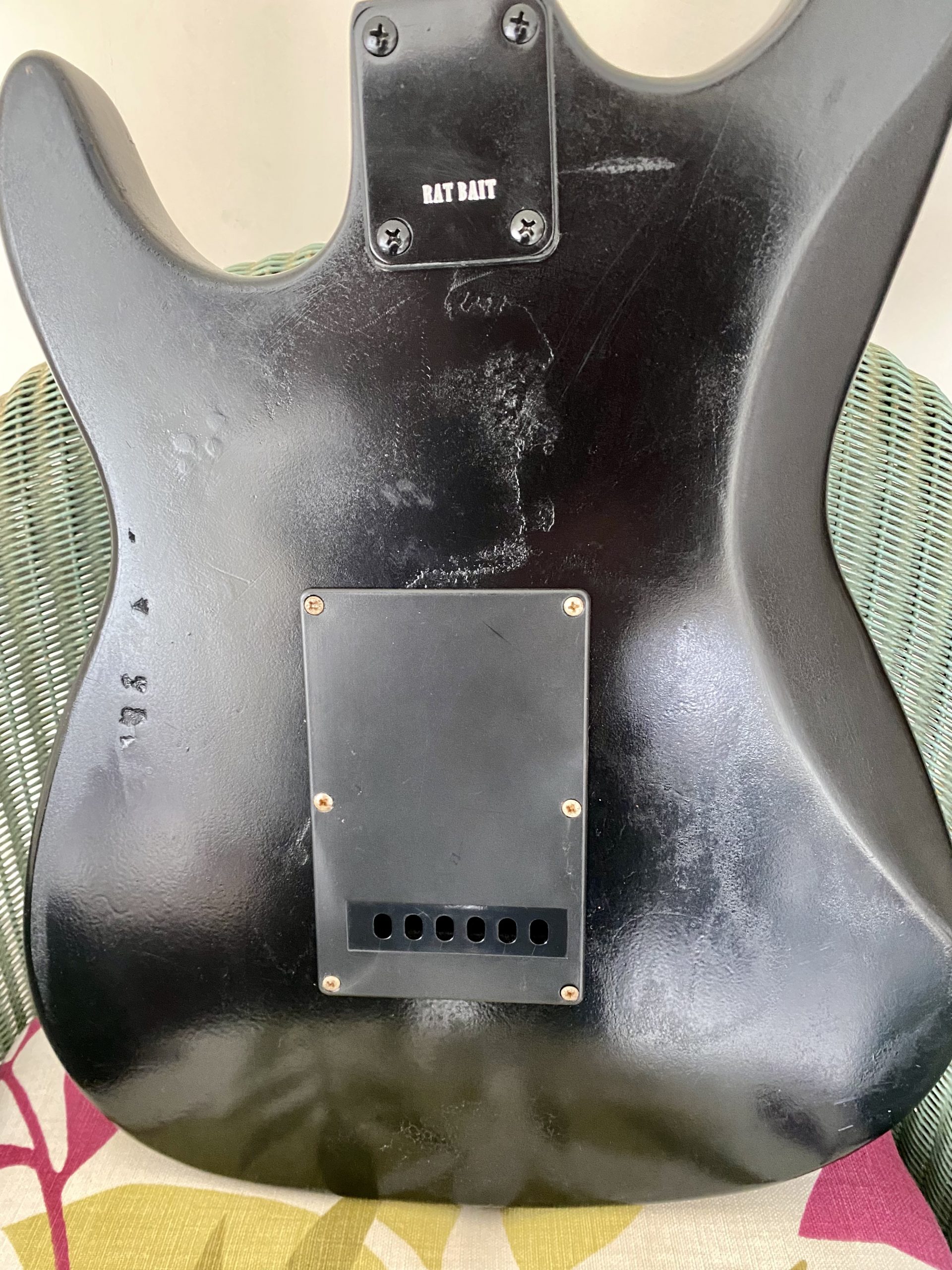 22-fret maple and rosewood neck
1 x split humbucker, both humbucker and single coil sounds
1 x micro switch
5 position pickup up switch
7 different pickup sounds
New 10mm Machine Heads
Nut Width: 1.656 In. (42 mm)
Scale Length: 25.5″
43.25 mm thick (± 0.5 mm Deviation)
56.5 mm neck pocket (± 0.5 mm Deviation)
Reliced Stratocaster body
Strap buttons
New tremolo unit
New waterproof gig bag
Allen Keys
This 'Rat Bait' guitar has been completely rebuilt with new humbucker pickups, replacement neck, machine heads and new tremolo unit. This guitar has 7 different pickup sounds.
Please remember – Non-UK clients must contact us before purchasing products. Shipping must be added for international shoppers. If you are from a non-UK country your order will not be dispatched unless you contact us before purchase. All UK shipping is free of charge.
We carry a small amount of stock which changes constantly –
contact us
if you are looking for a part.
All items are posted using Royal Mail.
Orders dispatched within two working days.
We accept reasonable return requests.
Follow us on Instagram
This is an excellent reloved example of this great black Vintage guitar

This black Vintage guitar plays really well. The neck is straight and has plenty of life left in it. The machine heads are the original Wilkinson hardware and has an early Wilkinson type bridge. The bridge pickup is a genuine new (2018) Wilkinson HOT Single Coil Pickup which has an early Fender Squire Script cover, the middle and neck pickups are earlier 60s style 'twangy' pickups, which sound as good as the original Wilkinson ones. New light strings fitted.
There is no need to register on this site to purchase goods, just choose what you want and click on the
PayPal
button, this will take you straight to the payment option.