Squier SE Body For Sale - UK
Squier SE guitar bodies are the best bodies to build a perfect partscaster or upgrade your guitar. I have fitted genuine Fender Mexican necks to these bodies in the past and they are a superb combination as good as, if not better than, a genuine Mexican Stratocaster
The general consensus is that SE bodies are made from Agathis, although some were apparently made from Alder.
This SE body is from approximately 2000 and has a few dents, bumps and scratches but still has its deep shine.
Body weight with strap buttons 2.012kg
Neck pocket 56mm wide (± 0.5 mm Deviation)
Thickness 45mm (± 0.5 mm Deviation)
Includes strap buttons
Fender Squier Alder HSH Stratocaster Body in Sunburst
This body is in fantastic condition, it originally came fitted with a Fender Squier neck, hardware and scratchplate.
£54.00 – UK Post Free. Contact for International Shipping
Neck Pocket: 56mm (± 0.5 mm Deviation)
Body Thickness: 43mm (± 0.5 mm Deviation)
High gloss sunburst finish – a beautiful body comes with neck strap buttons. Please see the photographs to judge the condition.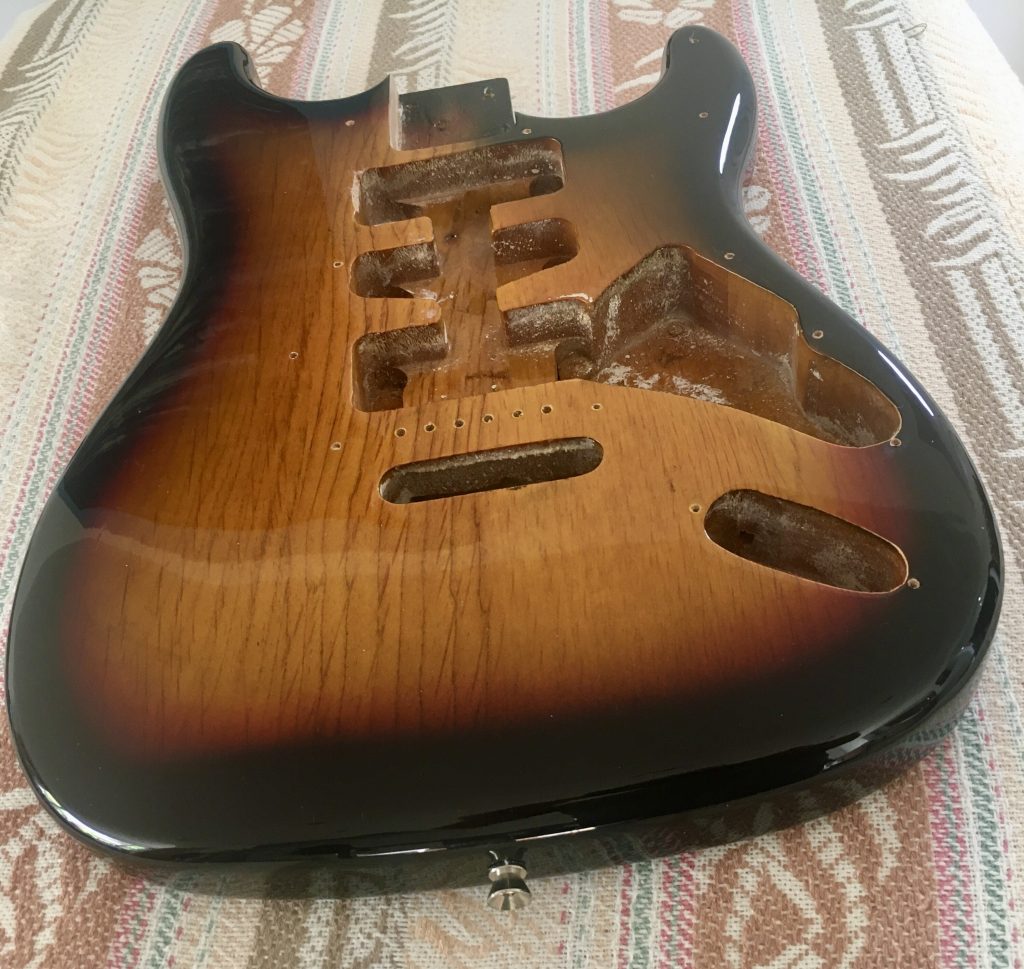 Visit our website, we have a treasure chest full of recycled and refurbished guitar parts.
We also bundle up spares together and sell them at a low price. We have a load of spares from broken, discarded and recycled guitars we have dismantled - chrome parts including tremolo assembly, 10mm machine heads, jack plug socket, strap buttons plus more. All parts are tested before putting up for sale.

We also stock individual items, like those listed above as well as others including: scratchplates, necks, pickups, humbuckers, bridges, engraved neck plates etc.
About Rat Bait Guitars
If you are looking for a unique and eco-friendly electric guitar, you might want to check out Rat Bait Guitars, a UK-based company that makes hand built guitars from recycled materials.
Rat Bait Guitars are different from other guitars in several ways. First of all, they are made from recycled materials gathered from various sources, such as old furniture, fence posts, roof constructions, flooring, and more. These discarded bits of timber are reused and reshaped into guitar bodies that have a unique character and history. The wood is also upcycled, repurposed, and recycled, which means that it reduces waste and saves resources.
Secondly, Rat Bait Guitars are custom built, which means that each guitar is one of a kind and not repeatable.
Thirdly, Rat Bait Guitars are affordable and accessible for beginners and intermediate players who want a Fender-style guitar without breaking the bank. The guitars range from £125 to £450, depending on the model and features
This page was created with the help of AI.
Why not visit our online store and build yourself your own custom guitar?


DIY Guitar, build yourself your own Relic Guitar, Partscaster or Frankencaster

We have a selection of new and used spare parts for your vintage guitar, relic guitar or partscaster. Why not visit our online shop and search for that missing part?
All transactions are carried out by PayPal for your convenience and safety. Once payment is received, items are posted within two working days. There is no need to register on this site to purchase goods, just choose what you want and click on the PayPal button, this will take you straight to the payment option.
We only carry a small amount of stock which changes constantly - contact us if you are looking for a part.
All items are posted using Royal Mail and are UK Post Free. Please Contact Us for International Shipping.