Three Pickups in a Telecaster
An extra pickup...
The Telecaster shaped style guitar has been with us since the 1950s and has been factory modified by Fender, with design tweeks, different pickups, materials etc ever since. The Telecaster is a mass produced solid body electric guitar that was well designed, easy to play, effective, rugged, affordable and great sounding. It had a simple black pickguard, a maple neck with all the tuners on the top edge of the headstock and a combination of bridge and bridge pickup in one integral unit.
With only two pickups, the desire for an extra pickup, like the Stratocaster, has always been there. The Nashville Telecaster is exactly this, a three pickup variation of the Standard Fender Telecaster.
The Telecaster style guitar has always been a design layout that has appealed to guitar modders and partscaster builders.

Rat Bait Guitars build an eco-friendly guitar that is similar to the Nashville. Some have 3-way switches and some 5-way. The five position version is similar to the configuration of a Stratocaster and the three position one is wired, one position for each pickup.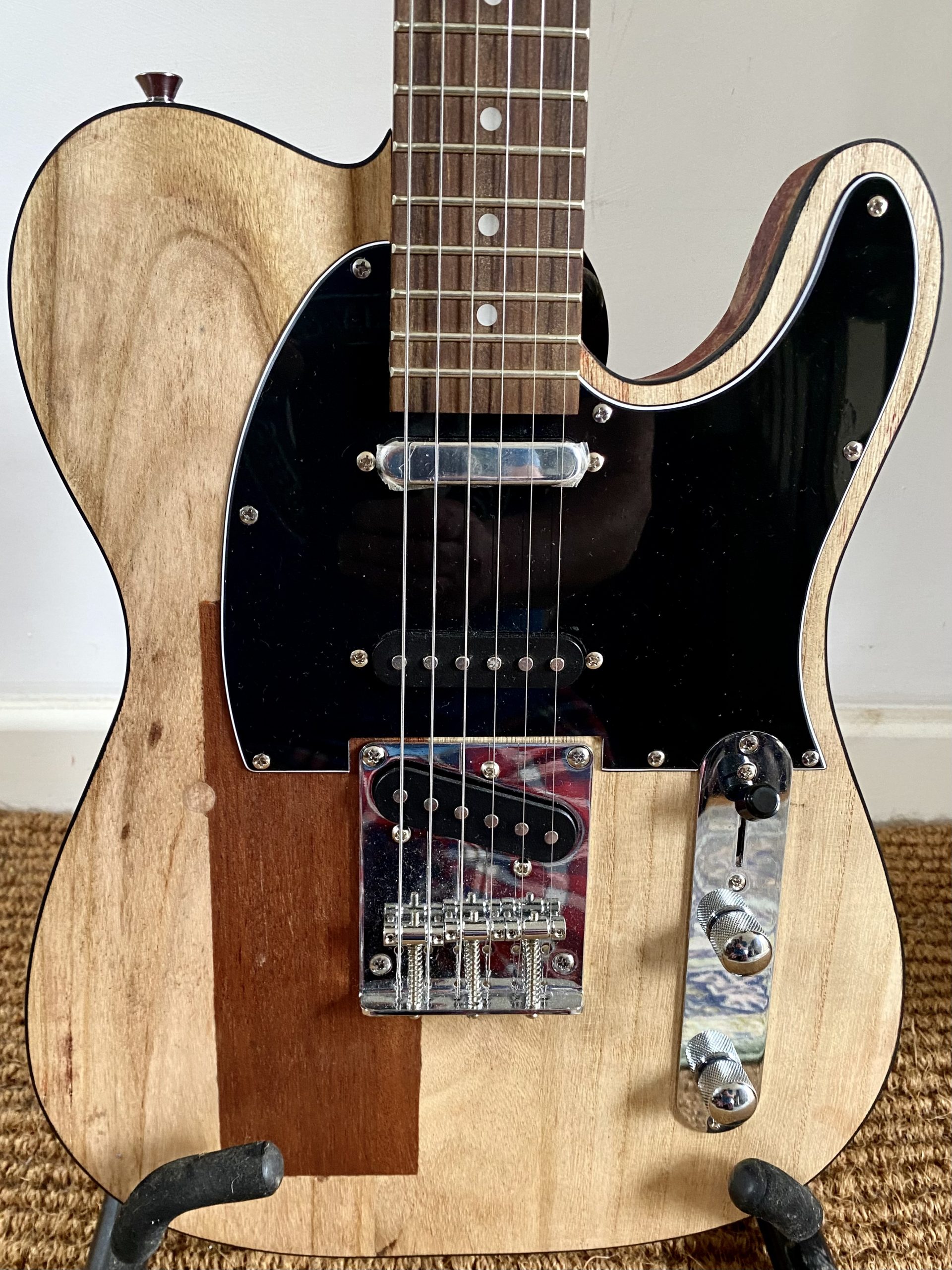 £150.00 UK Post Free.



This guitar body is made from Paulownia with vintage mahogany repair patch, reconstructed and restored in our rat infested shed in North Devon. The red paintwork on the rear and sides of the body has been partially removed and gives a roadworn, battered, relic look.

This Nashville style guitar sounds very old school. The middle single pole pickup is a vintage one that is at least 20 / 25 years old. The bridge pickup, electrics, machine heads, bridge and Jack socket are new. The black 3 ply scratchplate has been salvaged from a defunct Telecaster.
Salvaged body made from Paulownia
Approx. Thickness: 41.5mm
Chrome Neck Pickup
Vintage Tone
High Quality Approx. Resistance: 6.39k
Middle single coil pickup
Black 3 ply scratchplate
Black Telecaster bridge pickup
Approx. Resistance: 6.37k
Vintage Tone
22-fret maple neck,
Rosewood type fretboard
New 10mm Machine Heads
Nut Width: 1.656 In. (42 mm)
Scale Length: 25.5"
New waterproof gig bag
The Nashville Telecaster was introduced in 1996, in 1998 it was upgraded with a three-pickup configuration similar to the Stratocaster layout. The neck and bridge pickups were replaced with the hotter Delta Tone pickup system and the new middle pickup was the same "Texas Special" overwound single-coil pickup used in the Stevie Ray Vaughan model Stratocaster.

About Rat Bait Guitars
If you are looking for a unique and eco-friendly electric guitar, you might want to check out Rat Bait Guitars, a UK-based company that makes hand built guitars from recycled materials.
Rat Bait Guitars are different from other guitars in several ways.
First of all, they are made from recycled wood gathered from various sources, such as old furniture, fence posts, roof constructions, flooring, and more. These discarded bits of timber are reused and reshaped into guitar bodies that have a unique character and history. The wood is also upcycled, repurposed, and recycled, which means that it reduces waste and saves resources.
Secondly, Rat Bait Guitars are custom built, which means that each guitar is one of a kind and not repeatable.
Thirdly, Rat Bait Guitars are affordable and accessible for beginners and intermediate players who want a Fender-style guitar without breaking the bank. The guitars range from £125 to £450, depending on the model and features.
Why not visit our online store and build yourself your own guitar?

Why not visit our on line store and build yourself your own eco-friendly guitar?
We have a selection of new and used spare parts for your vintage guitar, relic guitar or partscaster. Why not visit our online shop and search for that missing part.
All transactions are carried out by PayPal for your convenience and safety. Once payment is received, items are posted within two working days. There is no need to register on this site to purchase goods, just choose what you want and click on the PayPal button, this will take you straight to the payment option.
We only carry a small amount of stock which changes constantly - contact us if you are looking for a part.
All items are posted using Royal Mail and are UK Post Free. Please Contact Us for International Shipping.