Indonesian Squier Stratocasters from the 2000s
Fender Squier chromeware includes: complete tremolo assembly (early type 1990s etc.) single pin machine heads, string trees, jack plug socket and assembly plus screws etc. This lot was removed from one Affinity Stratocaster.
UK Post Free Contact for International Shipping
This bundle contains used parts.Included:
Claw
3 x trem springs
Bridge saddles, springs and adjusters
Jack plug socket and boat
6 x single pin Fender Squier machine heads
2 x string trees
Indonesian Fender Squier Stratocasters: A Budget Vintage Option
Fender Squier Stratocasters are a popular line of electric guitars that offer the classic look and sound of a Fender Stratocaster at a more affordable price. Squier guitars are made in various countries, including Indonesia, where they have been produced since the late 1990s.
History and Background

Squier is owned by Fender that was originally used for lower-priced versions of Fender guitars. Squier guitars were first made in Japan in the early 1980s, and then moved to Korea and China in the late 1980s and early 1990s. In 1997, Fender opened a factory in Indonesia to produce Squier guitars, as well as some Fender models. The Indonesian factory is located in Surabaya, East Java, and is operated by PT Cort Indonesia, a subsidiary of Cort Guitars, a Korean company that also makes guitars for other brands.

Indonesian Squier guitars are identified by their serial numbers, which start with IC (Indonesia Cort) or IS (Indonesia Samick). The serial numbers also indicate the year of production, for example IC00 means 2000, IC01 means 2001, and so on. Indonesian Squier guitars are mostly from the Affinity Series, which is the lowest-priced series of Squier guitars. However, some other series, such as Standard, Bullet, and Vintage Modified, have also been made in Indonesia.
Features and Specifications

Indonesian Fender Squier Stratocasters from the 2000s have some common features and specifications that distinguish them from other Squier guitars. Some of these are:

Body: The body of Indonesian Squier Stratocasters is made of agathis wood, which is a tropical hardwood that is similar to mahogany in tone and weight. Agathis wood is cheaper than alder or basswood, which are used for higher-end Squier guitars. The body shape is the same as a Fender Stratocaster, with a double-cutaway design and a contoured back. The body finish is usually glossy and comes in various colors, such as black, red, blue, sunburst, and metallic.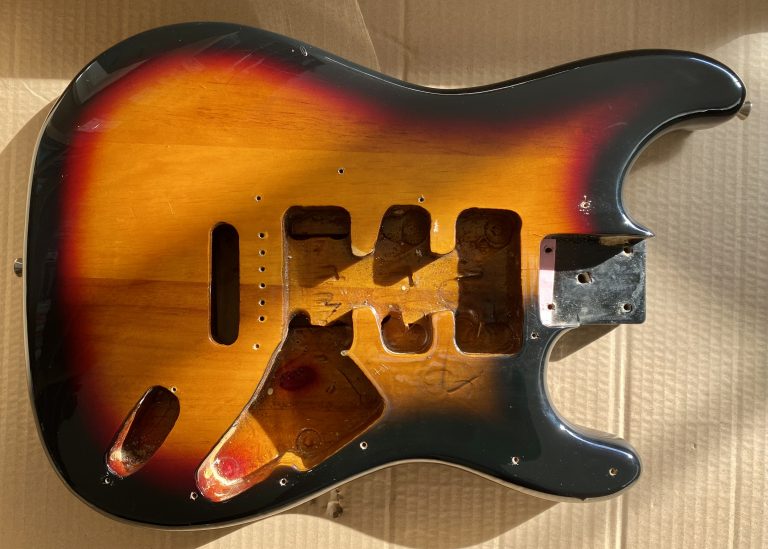 This SE body is from approximately 2000 and has a few dents, bumps and scratches but still has its deep shine.
Neck: The neck of Indonesian Squier Stratocasters is made of maple wood, which is a common wood for guitar necks. The neck shape is C-shaped, which is comfortable and easy to play. The neck joint is bolt-on, which means that the neck is attached to the body with four screws. The neck finish is usually satin or gloss polyurethane. The headstock shape is the same as a Fender Stratocaster, the headstock also has "Made in Indonesia" on the back together with a serial number. A lot of guitars produced during this period had the information printed on a transparent sticker, which nearly always is now missing.
Fretboard: The fretboard of Indonesian Squier Stratocasters is made of rosewood or maple wood, depending on the model and color. Rosewood fretboards are more common and have a darker color and a warmer tone. Maple fretboards are less common and have a lighter color and a brighter tone. The fretboard radius is 9.5 inches, which is standard for most Fender guitars. The fretboard has 21 or 22 medium jumbo frets, which are larger and wider than vintage frets. The fretboard also has dot inlays for markers.
Pickups: Indonesian Squier Stratocasters have three single-coil pickups: one in the bridge position, one in the middle position, and one in the neck position. The pickups are controlled by a five-way selector switch that allows different combinations of pickups to be used.
Hardware: The hardware of Indonesian Squier Stratocasters consists of chrome-plated parts that include tuners, bridge, saddles, pickguard, knobs, jack plate, strap buttons, and screws. The tuners are die-cast tuners that have a smooth and stable tuning action. The bridge is a vintage-style synchronized tremolo bridge that allows vibrato effects by using a tremolo arm or whammy bar. The saddles are six individual metal pieces that hold the strings and adjust their height and intonation. The pickguard is a single-ply plastic piece that covers the body cavity and protects the pickups and wiring. The pickguard color varies depending on the body color.
Mods and Upgrades

Indonesian Fender Squier Stratocasters from the 2000s are often modified and upgraded by guitar players who want to improve their sound, performance, or appearance. Some of the common mods and upgrades that are done on these guitars are:



Source: Conversation with Bing, 05/2023

Why not visit our online store and build yourself your own guitar?
'Rat Bait Guitars is a company based in Devon, UK, that makes hand-built guitars from recycled materials, such as salvaged wood, furniture, fence posts, etc. They also sell guitar parts, both new and used, that are tested for quality and functionality. They have an online shop where you can browse their products and order them via PayPal. They offer free UK shipping and international shipping on request.'
From Bing