Telecaster Guitar For Sale - UK free Shipping
The Telecaster is a versatile guitar that was introduced by Fender in early 1951. It was the first mass-produced solid-body Spanish-style electric guitar. Originally named the Broadcaster, it had to be renamed due to a trademark conflict with a rival manufacturer. The Telecaster has since become an enduring musical icon.
Free UK shipping

This Nashville Telecaster guitar body is made from salvaged timber, pieces of wood that were off cuts from the construction of a house roof and a piece from an old fence, constructed and shaped in our rat infested shed in North Devon.
Reused and reshaped, these discarded bits of timber gems have been given a new life. This means that the timber we use is now upcycled, repurposed and recycled.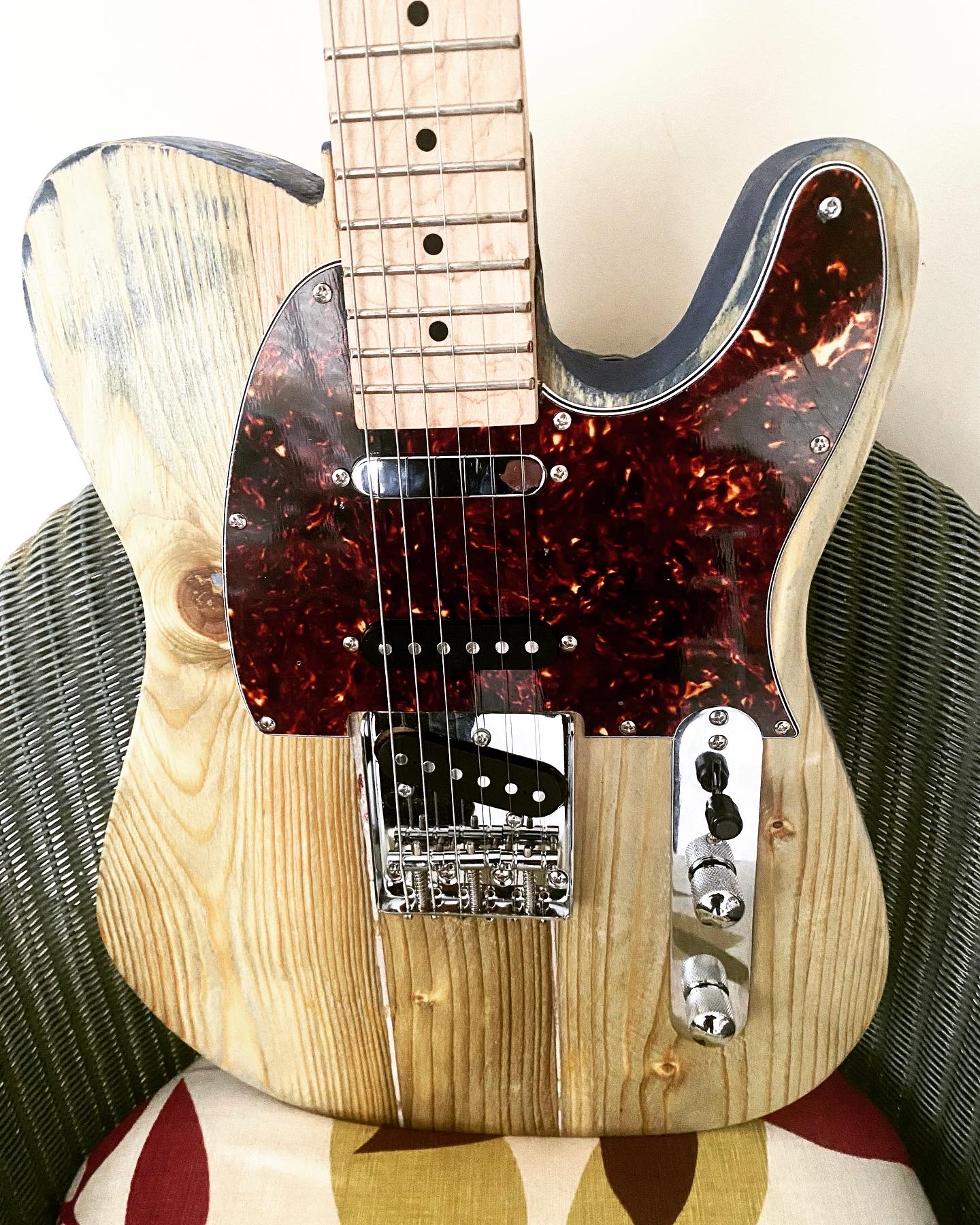 Body made from salvaged timber Approx. Thickness: 42.5mm
Chrome Neck Pickup High Quality Approx. Resistance: 6.39k Vintage Tone
Middle single coil pickup
Tortoiseshell 3 ply scratchplate
Black Telecaster bridge pickup Approx. Resistance: 6.7k Vintage Tone
22-fret maple neck New 10mm Machine Heads Nut Width: 1.656 In. (42 mm) Scale Length: 25.5″
New waterproof gig bag
Orders taken for similar guitar builds – Contact Us
Please remember – Non-UK clients must contact us before purchasing products. Shipping must be added for international shoppers. If you are from a non-UK country your order will not be dispatched unless you contact us before purchase. All UK shipping is free of charge.
We carry a small amount of stock which changes constantly –
contact us
if you are looking for a part.
All items are posted using Royal Mail.
Orders dispatched within two working days.
We accept reasonable return requests.
Follow us on Instagram
The telecaster body is a solid-body electric guitar that was designed by Leo Fender in the late 1940s and early1950s. It was originally called the Esquire, then the Broadcaster, and finally the Telecaster in 1951. It was the first mass-produced solid-body electric guitar revolutionising the music industry with its simple, rugged, and versatile design.
The telecaster body has a single-cutaway shape, a bolt-on maple neck, a pickguard, and two single-coil pickups. The telecaster body has been used by many genres of music, such as country, blues, rock and punk. Some of the famous players who have used the telecaster body are Muddy Waters, James Burton, Keith Richards, Bruce Springsteen, Joe Strummer and Pete Soundy.
Created with the help of Bing, 2023

History of Telecaster | Fender. https://www.fender.com/articles/behind-the-scenes/the-one-that-started-it-all-a-telecaster-history.
Fender Telecaster - Wikipedia. https://en.wikipedia.org/wiki/Fender_Telecaster.