Rat Bait Handmade Guitars
We are running low on our hand built guitars made from recycled wood at the moment. However a new batch of components and raw material has arrived so over the next few months more will become available.
The guitars we sell are made using a combination of new and reclaimed parts. Our guitars are never perfect but they are great value.
We use parts from the 1970s right up to the 2020s, mixed together to give the experience of 'heritage', our aim is to produce guitars that are very playable and sound better than the average homogenised guitars that are out there.
They won't be shiny and shimmering - they will look rugged, with a few battle scars but they will compliment any serious guitar collection.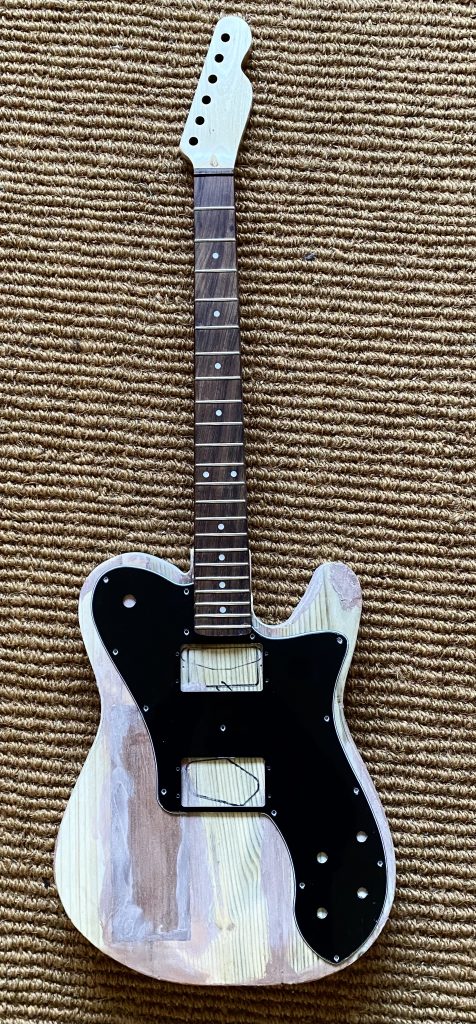 The photo above is our latest creation made from recycled Beech, Mahogany (unused parquet flooring from the 1950s) and salvaged roof timber. When it is completed, it will be a (nearly) Telecaster Deluxe. The Maple neck headstock has been shaped and is ready for a bone nut.
Recycled wood 1970s Japanese style body.
There is still a lot to do but we are going to use a 1960s / 70s style bridge and string retainer and fit humbuckers.
You can now buy our own brand of recycled and upcycled guitars. Each one is individually hand built in our workshop. The guitars we make are made from new and reclaimed parts. What we intend to do is create guitars that are reasonably priced and very different from what is available at the moment.

Busy day in the workshop. Rough cutting out another guitar body made from recycled materials. Next step chisels and sander - carve out the neck pocket, pickup holes and shape the body.
The guitars well sell are made up of a combination of new and reclaimed parts. Our guitars are never perfect but they are great value and unique.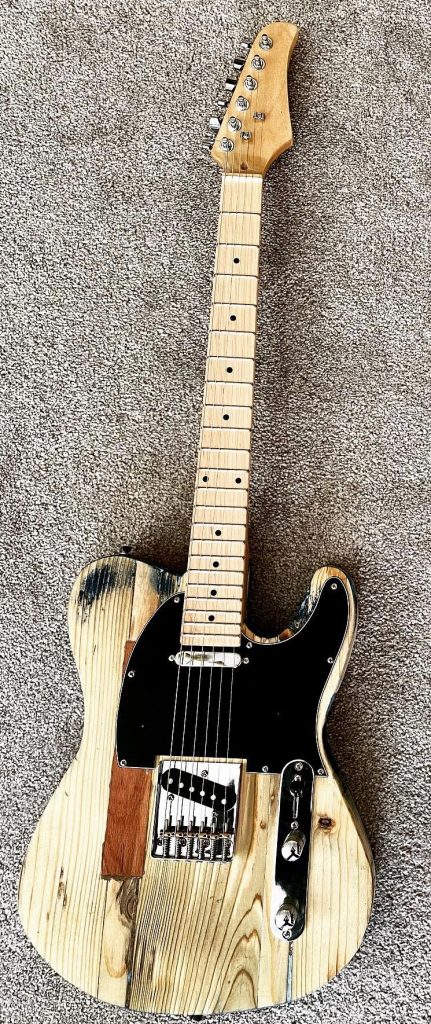 This guitar body is made from salvaged timber, pieces of recycled wood that were off cuts from the construction of a house roof and a piece from an old oak sideboard, constructed and shaped in our rat infested shed in North Devon.
Reused and reshaped, these discarded bits of timber gems have been given a new life. This means that the timber we use is now upcycled, repurposed and recycled.
The neck is new and has been fitted with a bone nut.
Please remember – Non-UK clients must contact us before purchasing products. Shipping must be added for international shoppers. If you are from a non-UK country your order will not be dispatched unless you contact us before purchase. All UK shipping is free of charge.
We carry a small amount of stock which changes constantly – contact us if you are looking for a part.
All items are posted using Royal Mail.
Orders dispatched within two working days.
We accept reasonable return requests.
Follow us on Instagram