Made in England Guitar Neck Plate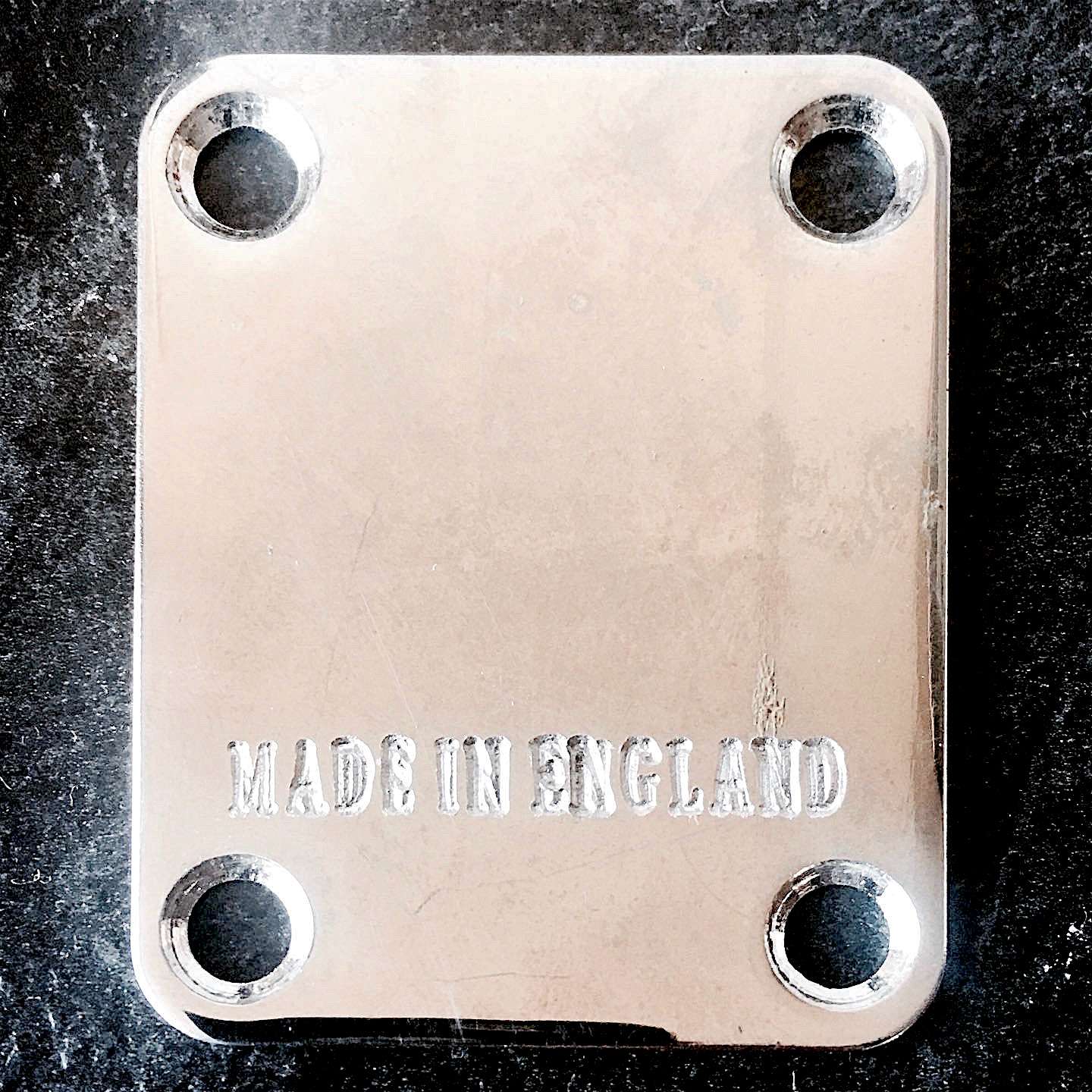 Make your new relic Stratocaster or Telecaster project look unique with a Made In England engraved neck plate.
£7.00 – UK Post Free Contact for International Shipping
Our neck plates are not contemporary (computer aided) engraved / etched ones that are available at the moment, they are mechanically engraved on an original 1960s engraver. Our plates look vintage and look like salvaged kit…
We originally bought a box of old stock engraved plates from an old guy who was retiring. We liked the way the plates looked so we tracked down a similar 1960s machine to the one that had engraved them and bought it.
Each plate is slightly different but all look similar to those illustrated.
If you want to customise your guitar with a vintage looking engraved neck plate then Contact Us – tell us what you want engraved and we will give you a quote.
Made in England Neckplate
This bundle contains a 'Made In England' engraved neck plate.
Included is: claw, bridge saddles, adjusters, springs, tremolo arm, 'Made In England' neck plate, rear tremolo cover, all fixing screws and strap buttons
Made In England neckplate and screws. This tremolo bridge will drop straight into your project body, Fender Squier or other Stratocaster style body.
This bundle is made up of new and salvaged parts, see images to judge condition.
This bundle is made up of parts removed from a Fender Squier, other guitars and contains parts from all over the world.
Included:
Claw
3 x trem springs
Tremolo arm
Bridge saddles, springs and adjusters
Made In England neck plate
Tremolo assembly
Rear tremolo cover
Strap Buttons
There is no need to register on this site to purchase goods, just choose what you want and click on the PayPal button, this will take you straight to the payment option.
We carry a small amount of stock which changes constantly – contact us if you are looking for a part.
All items are posted using Royal Mail.
Orders dispatched within two working days.
We accept reasonable return requests.
Please remember – Non UK clients must contact us before purchasing products. Shipping must be added for international shoppers. If you are from a non-UK country your order will not be dispatched unless you contact us before purchase. All UK shipping is free of charge.
We carry a small amount of stock which changes constantly – contact us if you are looking for a part.
Our Items are UK Post Free. Please Contact Us for International Shipping